About this real ale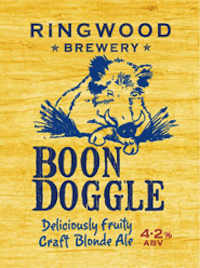 Boondoggle is an American term first coined in the 1920's. Boondoggle is a word meaning 'work of little value' which we have interpreted to mean 'Jolly' or 'any excuse for a pint'.
Tasting Notes
Boondoggle delivers a hoppy aroma with a citrus punch. This followed by a well-balanced moreish fruity taste. Boondoggles unique character is a result of the use of the finest English Pale Malt, First Gold and Fuggles Hops.
Boondoggle is a deliciously fruity ale affectionately crafted to savour and satisfy.
More Information