About this real ale
Lacons Falcon, its great!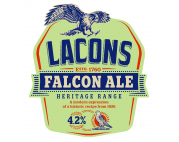 Lacons Falcon is a good honest ale that also fits perfectly with the family's motto, "in integrity is true honour." This aptly named brew was first introduced to pay tribute to the iconic trademark, which is part of the official crest of the Lacon name.
Tasting Notes
Lacons Falcon Ale is a time honoured classic dark bitter with an auburn glint. Elaborately balanced use of hops and malt paves the way to complex flavours which are charming and lightly spiced. The finish is perfectly balanced between fruitiness and bitterness.


More Information